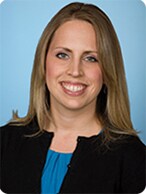 Undergraduate: New York Institute of Technology
Medical education: University of Nebraska, MMSc-PA
Nancy Kralovich, a physician assistant, cares for patients alongside Dr. Flanagan. She brings to Dr. Flanagan's practice an extensive amount of experience in the management of childhood fractures. In addition, Nancy has a unique role of assisting Dr. Flanagan during her complex limb lengthening surgeries and her osteogenesis imperfecta surgeries. She is also well versed in the management of these patients before, during and after surgery.
Nancy is certified by the National Commission on Certification of Physician Assistants. Her areas of interest include orthopaedic trauma, osteogenesis imperfecta and limb lengthening/deformity correction.
Clinic locations
Areas of focus
Musculoskeletal injuries
Limb deformity and lengthening
Gait abnormalities
Clinical interests
Musculoskeletal injuries and infections
Limb length inequalities
Limb deformity management
Orthopaedic trauma
Professional affiliations
American Academy of Physician Assistants
Society for Physician Assistants in Pediatrics