Puppies, unicorns with soft horns, walrus wizards—these are a few of the magical creatures that exist in the "happy places" of kids battling cancer. They are places full of promise, hope and joy. Not the wheelchairs, IVs and medications that exist in their daily lives. Everyone has a figurative happy place for when times are tough. For young patients battling childhood cancer at the Aflac Cancer & Blood Disorders Center, the practice of "going to your happy place" is more than just a catchphrase; it's a coping mechanism that can release endorphins and assist with pain management. In the weeks leading up to Childhood Cancer Awareness Month, we asked five of our cancer patients to describe their own unique happy places. They responded in great detail. With help from an illustrator, we brought their happy places to life.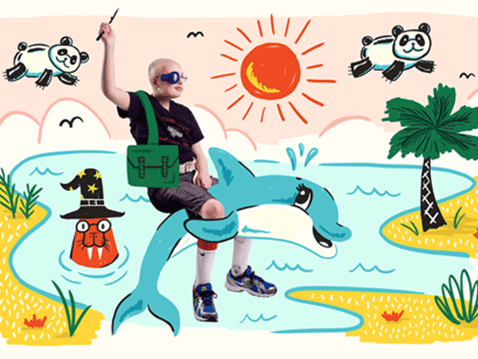 Hunter's Happy Place: A Land of Dolphin Rides and Walrus Wizards
Last year, 13-year-old Hunter was diagnosed with a brain tumor that turned into brain cancer. Since then, he's been through many rounds of chemotherapy, radiation, brain surgery, inpatient rehab and several stints in the pediatric intensive care unit. For Hunter, the hardest part of his cancer journey is "just losing everything I remember." Hunter goes to his happy place when he's scared, mad or nervous. In Hunter's happy place, the walrus wizard is kind of a big deal. The wizard uses magic to make pandas fly as high as the clouds and turns dolphins—that is, special dolphins that can live outside of water—into taxis.
What is there:
People living together in harmony; a walrus wizard; flying pandas; flying dolphins
What isn't there:
His wheelchair; cancer thinking it can mess with him again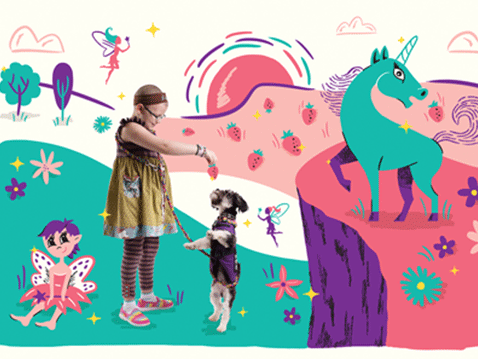 Lauren's Happy Place: Where Everything is Sparkly
After years of CT scans, long hospital stays and chemotherapy, the atypical teratoid rhabdoid tumor in Lauren's brain is gone. The 11-year-old is now cancer free, but she vividly remembers the happy place that helped her through the toughest of times. "When I was getting anxious or scared, Mommy would say 'Go to your happy place, go to your happy place.'" For Lauren, that place is a world where "everything is sparkly." She can lay and smell the flowers, play with an overabundance of Barbies and pet free-roaming unicorns. Not your regular unicorns, though. The unicorns in Lauren's land have soft, rounded horns that make it easy for them to play with herds of puppies.
What is there:
Her therapy dog Hope; soft-horned unicorns; puppies; fairies; more puppies; strawberries; flowers; a few more puppies; Barbies
What isn't there:
Anything that's not sparkly, pink, purple or blue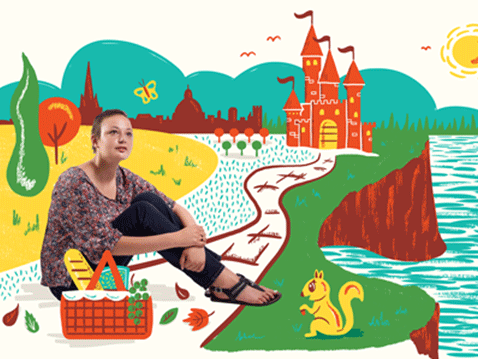 Justice's Happy Place: Italian Picnic Surrounded by Wild Animals
On Thanksgiving Day 2013, 16-year-old Justice was diagnosed with acute lymphoblastic leukemia. Without a known cause for leukemia, she's struggled to find a place to direct her anger. Justice goes to her happy place when she feels trapped—whether that's physically trapped by a treatment or mentally trapped with fear. It helps her in the late hours of the night when anxiety keeps her from falling asleep. Justice's happy place is a seaside picnic on the lush grounds of an Italian castle on a sunny day in autumn. The picnic is packed with rich Italian cheeses, pastas, pastries and breads, "but that's probably just the steroids talking." Going there reminds her that "just because I've been dealt this hand doesn't mean I'm going to quit the game. I have to keep playing."
What is there:
An Italian castle on a hill; the smell of delicious food; beautiful flowers; big trees; a path with mossy cobble stones; lots and lots of butterflies; animals everywhere; lots of different breads; crisp autumn air; an ocean view
What isn't there:
Feelings of dependence, anger or frustration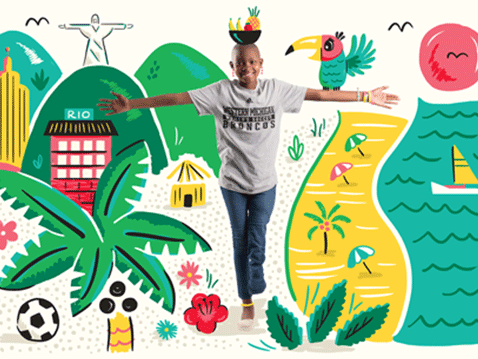 Mya's Happy Place: Rio de Janiero
While running at school this past February, 11-year-old Mya felt a pop in her knee that ultimately led to a diagnosis of osteosarcoma, or bone cancer. After countless doctor visits, MRIs, X-rays and chemotherapy treatments, Mya underwent a procedure called rotationplasty, which resulted in amputation of her leg just above the knee. To cope with her new normal, Mya often visits her happy place—and that's a sunny spot in Rio de Janeiro, Brazil, where she can feel the ocean breeze and sun on her face. The iconic Christ the Redeemer statue is always visible, showing "Jesus with his hands out—I really like that part of it."
What is there:
Sunshine; Christ the Redeemer statue; ocean breezes; soccer balls; toucans
What isn't there:
Crutches; her wheelchair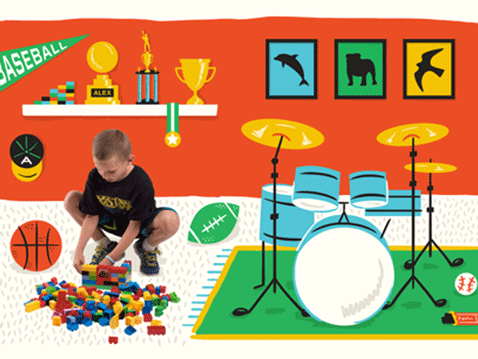 Alex's Happy Place: Home
Alex Richards was 4 years old when he was first diagnosed with T-cell leukemia and acute myeloid leukemia. For three and a half years, Alex fought through chemotherapy, a bone marrow transplant, spinal taps and bone marrow aspirates. Four years later, Alex is cancer free. Through his cancer battle, Alex spent many long weeks in the hospital. While there, the sports fanatic missed watching football and hockey games on his own TV. When asked what his happy place is, Alex had a simple answer. "Home."
What is there:
Legos; his TV; walls lined with pictures of his favorite athletes; framed baseball cards; drum set; guitar
What isn't there:
Chemotherapy; the hospital
The Aflac Cancer Center's happy place is a world where no child has cancer. We need your help to make finding a cure a reality.