Established in 2011, Emerging Leaders for Children's (ELC) is a leadership development board of accomplished business professionals, physicians, and community volunteers in their 30s to early 40s. Under the oversight of the Children's Foundation Board of Trustees, ELC's mission is to advance the vision of Children's Healthcare of Atlanta by engaging the community, raising awareness and funds, and growing the next generation of volunteer leaders.
Regular business meetings, networking opportunities with Trustees and executives, volunteer engagement with patients, and member socials make for a meaningful ELC experience for approximately 30 standing members. If you are interested in joining this dynamic group of leaders in 2019, our online application portal is now open through August 17.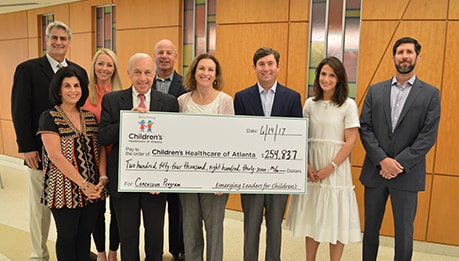 The Scrubs Party
Core to ELC is the group's signature fundraising event, The Scrubs Party, hosted each spring in support of a program at Children's as voted upon by the group. In 2018, ELC is poised to surpass $1 million in cumulative contributions to Children's through the 5th annual Scrubs Party, benefitting the Aflac Cancer and Blood Disorders Center. In past years, ELC has raised significant funds for the Concussion Program, Robotics Center, Child Protection Program, ECMO Center and Neurosciences program. ELC also helped launch Children's childhood obesity prevention campaign in metro Atlanta.